Let the planting begin!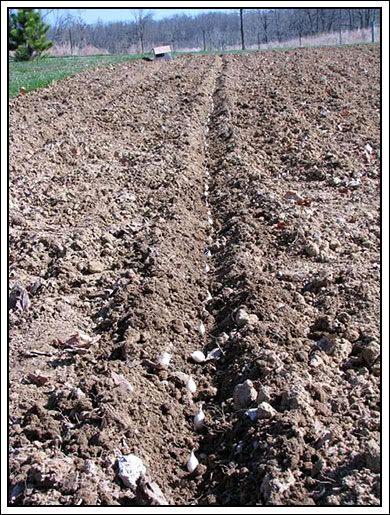 Each year we amend the soil and do more work to our garden. When we moved here 3 years ago this was a flat grassy area but with a little quite a bit of work it's now one of my favorite places to be during the spring and summer.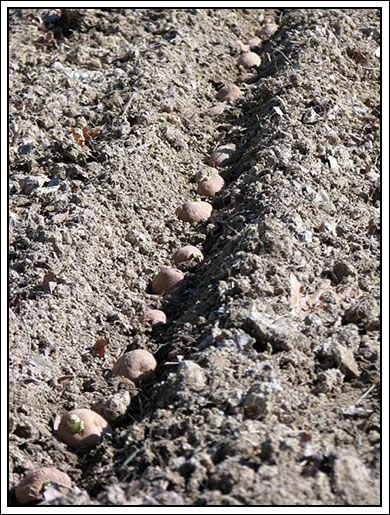 (Those potatoes look too close together but they are actually about a foot apart!)
I picked up our seed potatoes and onions for planting a couple of weeks ago, got the potatoes cut so each piece had an eye bud (or two or three) on it and then we got a lot of rain so I have had to wait for the garden to dry out again. We added a ton and a half of lime, literally a ton and a half, a couple of weeks ago and spent some time working it into the soil. I learned something new....it takes quite a while for the lime to break down and benefit your soil so from now on I will add the lime in the fall and wait until spring to fertilize...I love learning new things about gardening, I just always wish I had learned them the year before!

Yesterday was the big day! My sweet husband laid my rows for me on Wednesday evening and started laying out the taters and onions yesterday morning. They had nice big eyes on them from sitting for a couple of weeks plus the cuts had dried well which decreases the chances of rotting in the ground.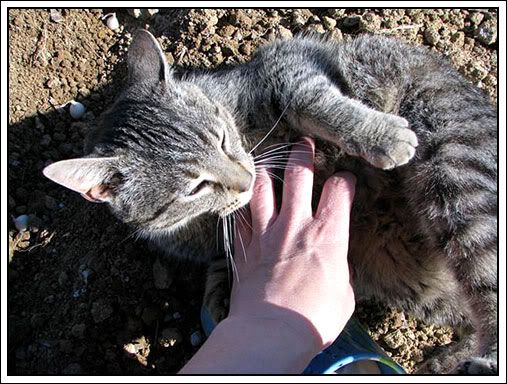 I had help, lots of help from Dirt Cat....the rolling on the ground wanting his belly scratched even managed to cover a couple of the potatoes for me.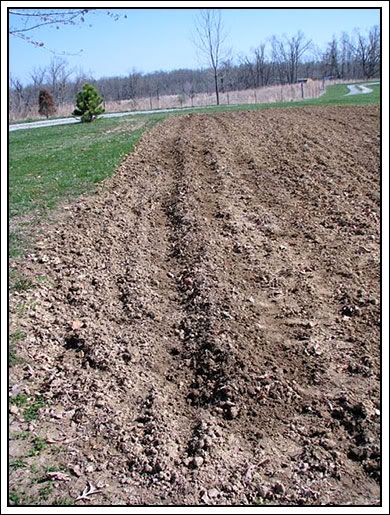 So there they are all covered up and waiting to pop through the ground!

I love this time of year! We are leaving for Spring break on Sunday. We are going to North Carolina to my husband's grandfather's cabin. His aunt and uncle still live there and his mom and stepfather are driving up from Florida to meet us there. They haven't seen the boys in almost 3 years so they are in for some excitement!

I hope you all have a wonderful and blessed Easter weekend!