I love making suet for the birds, especially this time of year when it's cold and I know there are not a lot of nuts, berries or seeds left for the little guys to feed on. All you need is a broken tree limb and you can make this little feeder. I found a beautiful cherry limb on the side of our road while I was walking. We had some wind and rain last night and several limbs left from the ice storm of '09 fell. Yes, they are still falling!



Here's what you need to make this feeder.
1 larger limb about 6 inches long and 1.5 inches in diameter
2 smaller limbs about 5 inches long 1 to 1.5 inches in diameter
6 small sticks about 7 inches long
4 finishing nails (about 2 inches long)
12 small nails about 1 inch long
2 Screw hooks
Wire for hanging.
Suet

I cut the limbs up with a miter saw. You can use a hand saw but the miter is faster. I measured mine to fit my son's sandwich box. That's what I use for a suet mold from time to time and I happened to have one already made in the freezer. You can change the dimensions to fit your mold. I also have a double feeder like this that holds two suet cakes. Just make your larger limb longer!


I cut notches in the ends of my smaller limbs to fit the ends of my larger one. You can see the cuts in this photo.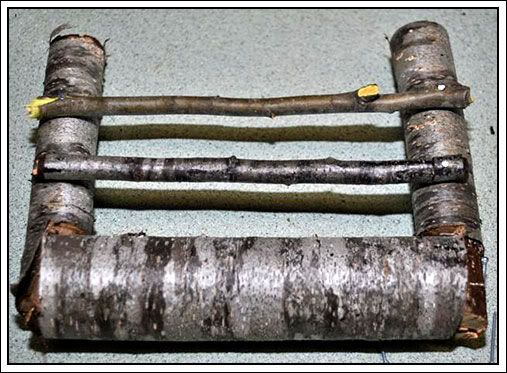 Nail the end pieces on with the larger of the nails. I use two nails per per end. Then take the 6 longer sticks and put 3 on each side about an inch apart working from the bottom up. Attach these with a small nail on each end and trim any excess overhang.

It will look like this when you finish.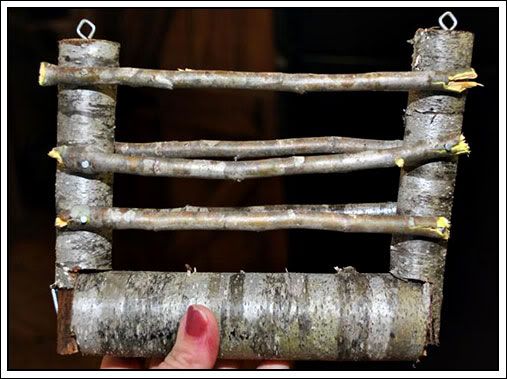 Add your screw hooks to the top of the two side "posts", attach your wire, add suet, hang and enjoy! I know your birds will.

Rustic......



and cute!

You can find Rustic Suet Feeder #1 here.
and Hey,
I have over 300 followers now! You guys are awesome! Thank you!!!