Lily in the morning sun...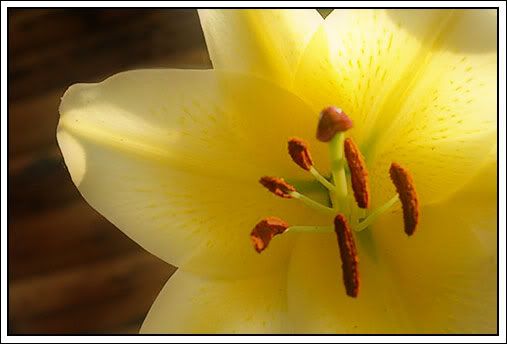 I use lots of photos to share my farm stories but as I sat milking Bella this morning I turned on my "listening ears". There are so many sounds around a barn in the morning. I mentally made a list of the sounds I heard so I could share them with you.

It takes me about 5 minutes to milk Bella and these are the sounds I heard during that time:

First and foremost the rhythmic squirting of milk into my milk pail.

Bella munching her feed.

The other goats pushing and shoving over who has the most feed in their trough.


The twitter of two barn swallows discussing their nest overhead.

The sound of a barn cat sharpening his toenails on the old wooden gate.

The sound of the bassets and Tucker scuffling in the grass.

The breeze blowing through the big oak behind the barn.

A limb from the same big oak scraping on the edge of the tin roof.

The guineas chirping and waiting for some corn.


The twirp, twirp, twirp of the young geese talking to one another

The cheaping of young chicks.

The cluck of hens waiting for their feed

The louder rooster clucks of Red and Pumpkin deciding who will "rule the roost" for the day.

Far away I can hear a lawn mower


The motor of a barge on the river nearly 5 miles away as a crow flies.

Flies, always flies, it's a barn!

The many, many purple martins who have called their babies from the martin house. I love the sound they make when the sky is full of them and they are going about their socializing in the early morning.

Then I hear a voice, no two voices, and I look to see two little boys in their underwear, standing on the front porch, yelling, "Momma, we want some breakfast!"
Take a few moments to close your eyes and enjoy the sounds in your life.