Christmas was great here with the kids! Santa was very generous this year. I even got another cast iron skillet but it's still going on! My mom had to have surgery on the 23rd and was in the hospital until the 26th so Christmas with my side of the family was postponed until last night and Joe's family will be coming in from Tennessee tomorrow so we still have 1 more gift opening to do!

Mom is recovering well and is feeling better than she has in a long time. I was thumbing through the cookbook looking for something to take to the dinner for dessert last night and saw the recipe for a Mandarin Orange Cake (better known as the "Pig-Lickin' Cake" to most people in this area). Thought I would share it with everyone.

Here's the one and only pic I got of it, and as you can see, the hounds got at it before I had a chance to take this one! Hounds meaning my brothers and brother-in-law!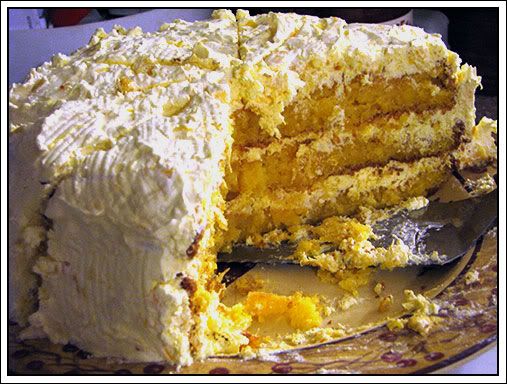 Mandarin Orange Cake
1 box yellow butter cake mix
1 c. vegetable oil
4 eggs
1 (11 oz.) can manadarin oranges with juice
1 (9 oz.) container Cool-Whip
1 lg. box vanilla pie filling
1 can crushed pineapple (drained)

Preheat oven to 350 degrees. Combine cake mix, mandarin oranges, eggs and oil. Beat 2 minutes on highest speed the reduce speed to lowest setting and and beat for 1 minute. Pour batter into 3 greased and floured 9-inch round cake pans. Bake at 350 degrees for 25 minutes. Cool in pans for 10 minutes, remove layers and cool completely. Combine Cool Whip, dry pie filling and pineapple. Beat for 2 minutes at medium speed. Let stand 5 minutes or until mixture is to spreading consistency. Spread pineapple mixture between layers and on top and side of cake. Chill for at least 2 hours before serving. Store in refrigerator.

This cake is easy to make and delicious!!