Delicious, whatever you want to call them.......it'll make your taste buds sing!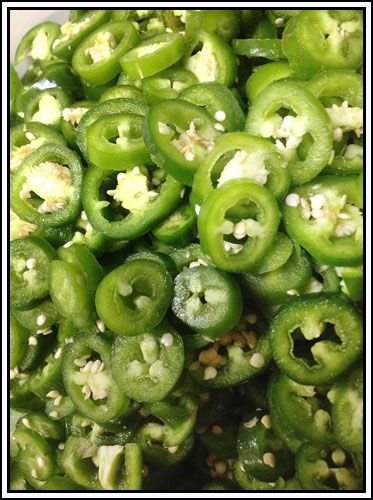 Cowboy Candy
3 pounds fresh, firm jalapeños
2 cups cider vinegar
6 cups granulated sugar
1/2 teaspoon tumeric
1/2 teaspoon celery seed
3 teaspoons granulated garlic (or 1 1/2 tsp garlic powder)
1 teaspoon cayenne pepper
Wash your jalapeños
Remove the stem and slice into 1/8 to 1/4 inch slices. Please wear gloves when you're doing this or you will regret it!! The first time I chopped jalapeños when canning, my fingers burned FOREVER! Well, not forever, but it felt like it!
Mix vinegar, sugar, tumeric, celery seeds, garlic and cayenne pepper together in a large pot. Bring to boiling. Reduce the heat and simmer for 5 minutes. Add the jalapeños! Bring back to boiling. Reduce the heat and simmer for 5 more minutes.
Use a slotted spoon to transfer the pepper into hot, sterile half pint or pint canning jars. Take the liquid from your pot and pour over the peppers in the jar, leaving 1/4 inch head space. Using something (I use a wooden kabob stick), remove any air from the liquid in the jar. I just poke around in there 3 or 4 times to make sure all the little bubbles get loose. Add your hot lids and bands and process in a hot water bath.
(10 minutes for half pints/15 minutes for pints)
Yield: 6 half-pint jars
(I doubled the recipe and got 10 but I packed the peppers pretty tight before adding the liquid.)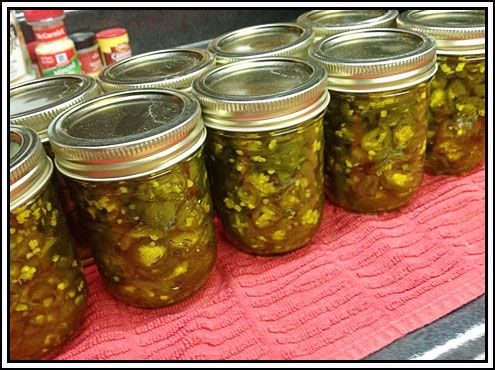 Then the HARD part! You need to wait 2 weeks to a month for all the tastes to mellow and turn into awesomeness! I tried someone else's......I have 9 days to go before I can try mine! I'm not sure I'm going to make it!
Hope you enjoy yours!!