I have to apologize for the picture quality on this and my recent posts. It's so much easier to use my iPad and iPhone, but I look back at pics in my posts from before when I was using my big, expensive, rarely-gets-taken-out-of-the-bag-now, Canon camera + Photoshop (which is installed on my broken computer) and I'm a little sad. I make a promise to use it more often and to get my old computer fixed so I can Photoshop again!
This past year has brought a lot of changes for us. I am working full time and I started back to school to complete my Bachelor's degree. It's slow, but it's happening!

When the private school (18 students) the boys were attending closed, they went to the county public school (700+). They have adjusted well and love having so many new friends. And they got to have Mohawks (for a little while!)
We bought our horse trailer with living quarters and started trail riding!
Jake has started riding on his own so we are looking for another well-broke horse for him.
We can't wait for warmer weather so we can spend our weekends at Wrangler's Camp and several other riding camps in our area.
We have our new baby! Dimple and Sarah's little man FINALLY made his appearance and is growing like a weed!
I had a garden this year but in the midst of work, school, ball games, AND DROUGHT, I didn't get to enjoy it as much as I would have liked. I did can some tomatoes, froze some corn, canned some jelly and enjoyed what it did produce. I am already planning ahead for this year. I need to restock my shelves!
So many changes and most of them for the better! (Although I'm not too sure about this one....)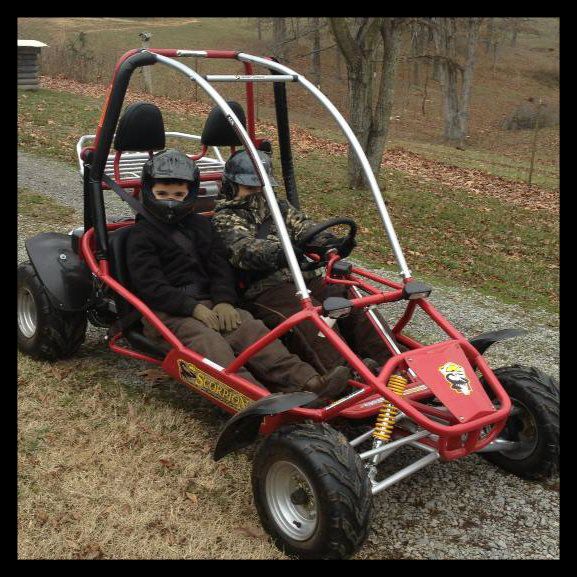 I do miss working from home and having my free time to make soap and craft and manage my little hobby farm but being able to afford to do the things we love when we do have time off makes it worth it! One of my New Year's resolutions is to spend more time doing the stuff I call fun (like crafting, cooking, soap-making blogging!) this year, I plan to have a bigger number beside that 2013 than the 2012 on the side of my blog! I am thankful for all faithful followers and wish each of you a happy and blessed 2013! It's been awhile since I've had a give away. Hmmmmm....................
Charlie agrees!!