I have received a few concerned emails and posts from my readers concerning the flood! Flood waters are still up but slowly receding. I am sorry to have worried some of you! I had surgery last Wednesday. Nothing serious, but it is taking a little while to recover from. My wonderful husband and boys have been pampering me and taking care of the animals. My husband went back to work this morning. I made it to the barn and fed everyone. (Yes, I was told to stay in the house and take it easy but that's hard to do when it's so beautiful outside, right??).

I thought I would share a delicious recipe for pot roast I found a couple of weeks ago.


It's easy to throw in the crock pot and have for supper while I'm recuperating!


Delicious Pot Roast

3 to 4 pound roast
8 medium potatoes
1 bag baby carrots
1 package Ranch dressing mix
1 package Italian dressing mix
1 package brown gravy mix
3-4 garlic cloves (pressed)
2 - 3 cups water

Peel and quarter your potatoes and put in the bottom of your crock pot, add carrots. Add thawed roast on top of vegetables.


Mix together the dry dressing mixes and the brown gravy mix. Pour this over the top of your roast and rub it in well. Add two cups of water to crock pot. Press 3 - 4 garlic cloves and add garlic to top of roast and rub in.

Set Crock pot on high for 6 - 8 hours or low for 8 to 10 hours. I do turn the roast once or twice while it's cooking and add a little more water if it's needed.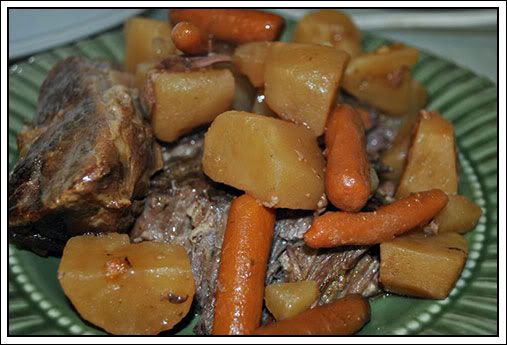 This is so good! You end up with a wonderful roast and gravy. We love to eat it served over homemade bread with a side of beef rice.

Enjoy!!!


Printable Recipe