I am the Lil' Smokie Queen! Ay least my family thinks so. I'm always expected to bring the Lil' Smokies to any and all family get-togethers. There's an awful fuss if I don't!
There's a quite a bit of mixing for the sauce so I decided to can some tonight. I always make 4 pounds (actually it's not quite 4 pounds now since the packages are 13 ounces instead of 16 ounces like they used to be!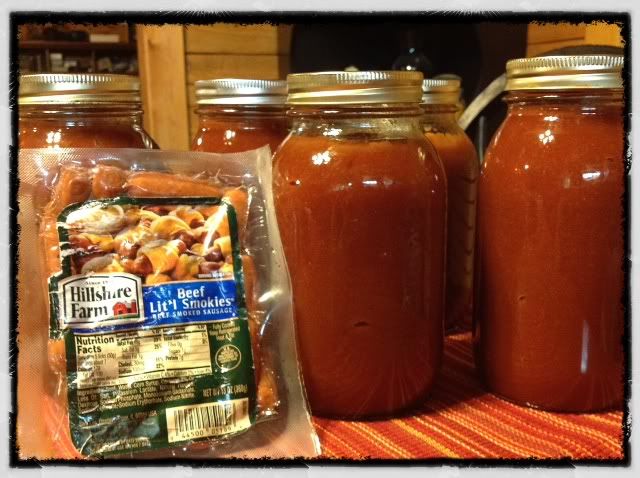 Anyway, a quart of sauce makes 4 pounds packages of Lil' Smokies.

I prefer the Hillshire Farm Beef Lil' Smokies, but any of them will work. I always make the recipe x 4 for my crock-pot of Smokies.


This is the basic recipe for 1 package of Smokies.
Sauce

1 cup ketchup
1/4 cup brown sugar
2 tsp soy sauce
2 tsp Dijon mustard
2 tbsp white vinegar
1/8 tsp garlic powder
1 package Lil' Smokies
Mix ingredients, add Smokies and cook in Crock-pot until Lil' Smokies are plump and tender.

For canning, I did the recipe x 16 just because that's how much ketchup I had stored in the pantry.
I use Heinz, I'm picky about my ketchup!
Mine made 5 quarts of sauce.
Sauce for Canning (makes 5 quarts)

16 cups ketchup
4 cups brown sugar
32 tsp soy sauce (2/3 cup)
32 tsp Dijon mustard (2/3 cup)
16 tbsp white vinegar (1 cup)
2 tsp garlic powder

Slowly bring to a slow bubbling boil, stirring occasionally. Once boiling, have hot jar, lids and bands waiting. Pour sauce into hot jars, adjust lids and bands and process in boiling water bath (canner) for 20 minutes. Remove jars of sauce from canner and let cool. Check seals on top of lids after cooling. Just add this sauce to your Smokies in the Crock-Pot when you're ready to cook them and turn it on! All the work is done for you. This sauce can be used for lots of different recipes or as a barbeque sauce for grilling, etc. Hope you enjoy it!