arrived on June 27, weighing 7 pounds and 8 ounces. Jake and Luke are very proud of their new cousin. My brother, Stephanie and Adam are very happy to finally have him here!
I apologize for the quality of these photos. I went to my mom and dads yesterday, so excited to get photos, turned the camera on and had forgotten my camera card. I always carry an extra in my bag but guess what? It wasn't in there yesterday.....who's been in my camera bag??
Anyway, poor quality or not......here's Weston!
The colors go with the holiday!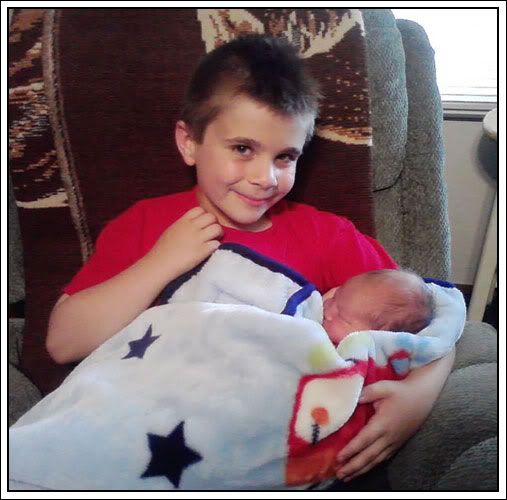 Jake is growing up so fast and was so sweet and gentle holding and loving on him.



Luke thinks it's so cool that he's not the baby in the family anymore!

I'm just happy to have that new baby smell around again! Joe took one look at me holding him and said, "Honey, you know we can't have anymore!" I'm okay with that even though my boys are growing up fast BUT.....
I'm going to spoil this one as often as I can!!!!!

H
A
P
P
Y
I
N
D
E
P
E
N
D
E
N
C
E
D
A
Y
!
!
!
!